Figured I'd start a topic about this, the folks at WZ are posting about snow falling over much of NSW, VIC and TAS - they describe it as the the heaviest falls they have seen (and these are people who know alot about snow) - keeping in mind it is only may, this is very interesting.
Some pics: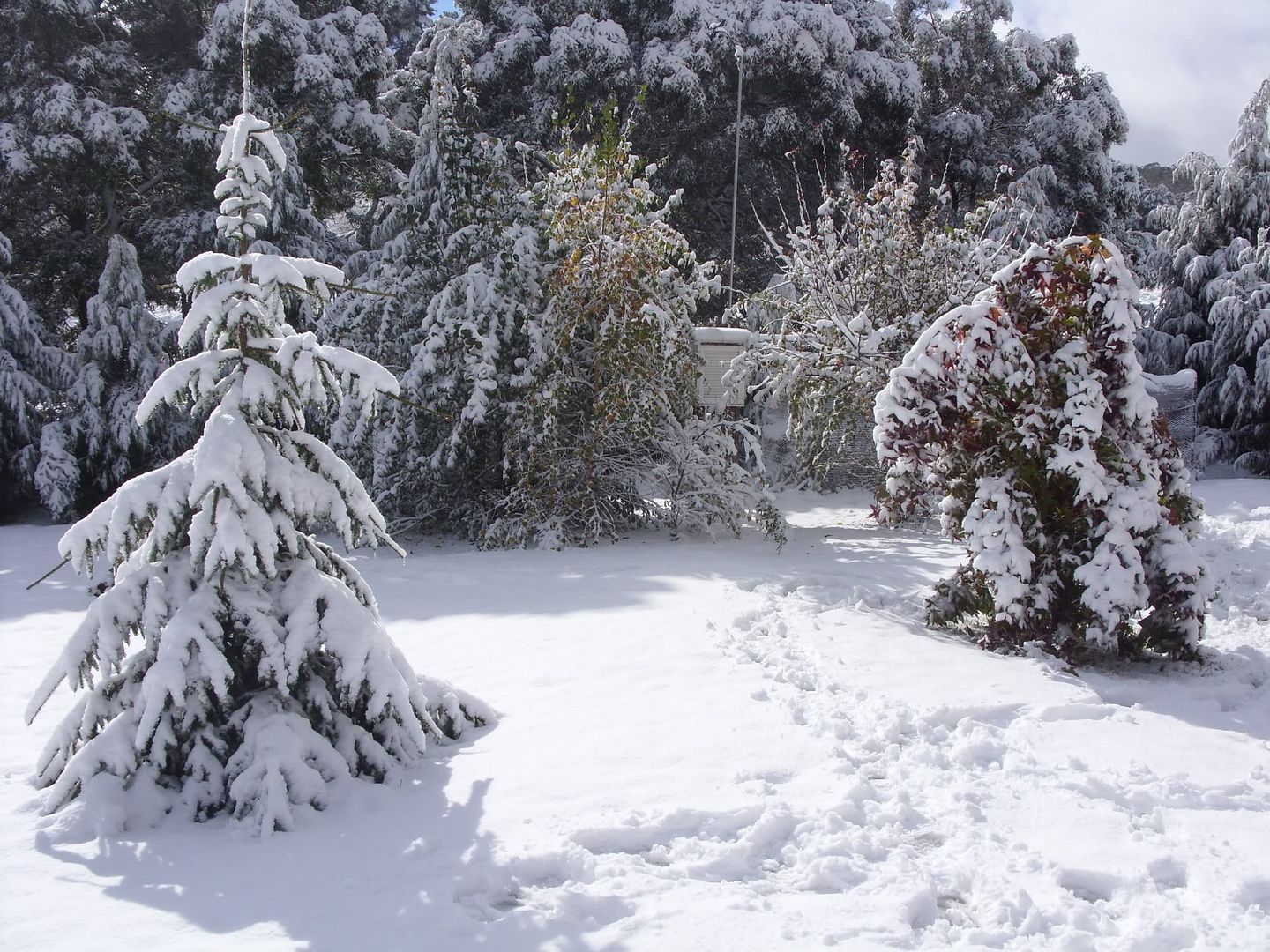 Most of these are from Snowmi.
Also, figured I'd capture a bunch of forecasts to throw into the post, can you spot the odd one out?
I (and it seems most on WZ) expect there to be ALOT more 'snow' forecast after tonight's end, considering it's still May this is astonishing.
---
Some guy of WZ said he'd gladly swap our drought for their cold snap for a few weeks.
---
---
Posts: 4836
Joined: Tue Aug 15, 2006 11:05 pm
Location: Yeppoon Qld ... Success WA (2004- 2011)
Right now it is -4 in Canberra with an app tem of -8 !
Yeppoon Annual Average Rainfall is (BOM) = 982.5mm
2012 Yeppoon 976.8mm
2014:1114.2mm
---
Bone shaking Canberra cold

Alex Krisman, Sunday May 15, 2011 - 07:01 EST

Canberra plummeted to a bone shaking

-6.9 degrees

overnight, making it the coldest night this early in the year on record. Temperatures this low are much more typical of an extreme night in the depths of winter. The last time it was colder was July 21st 2004, when the mercury dipped to -7.3 degrees.

By 8pm Saturday night Canberra had already fallen to freezing, the city continued to rapidly cool, bottoming out by 4am. This extreme cold is a result of lingering cold air from a recent cold front combined with clear skies and light winds produced by a high pressure system.

Last night continues Canberra's frosty May trend. There have already been 9 nights below freezing this month, exceeding the monthly average of 8, and it's only halfway through May.

The icy nights will continue this week due to a very slow moving high pressure system, although they will not get as cold as last night, due to a gradually warming airmass.

- Weatherzone

© Weatherzone 2011
Source: Weatherzone news
---
Posts: 4836
Joined: Tue Aug 15, 2006 11:05 pm
Location: Yeppoon Qld ... Success WA (2004- 2011)
Cold snap grips Alice Springs

http://www.weatherzone.com.au/news/cold ... ings/17493

Friday May 27, 2011 - 12:38 EST

Alice Springs residents awoke to temperatures below zero this morning.

At 7:00am (ACST) the temperature was minus -1.7.

Ashley Patterson from the weather bureau says it is the coldest May morning for 24 years.

"[We were] expecting about zero this morning and we got nearly minus two and we're going for zero Saturday and Sunday for Alice Springs for a minimum, with a maximum staying about 17 to 18," he said.

- ABC
Interior to freeze

http://www.weatherzone.com.au/news/inte ... eeze/17486

Josh Fisher, Thursday May 26, 2011 - 10:44 EST

Over the next few days clear skies and brisk southeast winds will allow overnight temperatures to drop close to freezing over parts of the country's interior, while maximums struggle to the mid teens.

With the official start of winter just days away, outback Australia is receiving an early taste of the season. Overnight temperatures dropped five to ten degrees below average across Queensland and the Northern Territory, with cooler minimums expected over the next few days.

Alice Springs fell to a chilly three degrees this morning and the maximum temperature will only reach around 16 degrees, which is likely to be its coldest day since September. Over the next few nights, the temperature is expected to dip close to freezing.

In Queensland, many locations froze through near record cold this morning. The mercury dipped to the freezing mark in Blackall, making it the coldest May morning in at least a decade.

This chilly weather will persist through the weekend, before a warmer airflow builds next week.

- Weatherzone
Yeppoon Annual Average Rainfall is (BOM) = 982.5mm
2012 Yeppoon 976.8mm
2014:1114.2mm
---
Posts: 5413
Joined: Thu Jun 04, 2009 4:03 pm
Location: Canning Vale
Big snow falls on Winter solstice:
http://www.weatherzone.com.au/news/big- ... tice/21934
Thursday June 21, 2012

The cold and wet snap hitting the state has brought welcome snow falls to the Victorian alps.

The Winter solstice, the shortest day of the year, saw steady snow falls at the state's key ski resorts.

Snow is forecast to fall down to 800 meters overnight.

Weather Bureau duty forecaster, Phil King, says snow showers will continue throughout the weekend and bring a good snow cover for the upcoming school holidays.

Falls Creek, Mount Buller and Mount Hotham have all had falls of between 10cm and 15cm. A further 50cm is expected by Friday night.

Meanwhile, there have been solid rainfalls across the state including 30mm at the Grampians.

The Bureau is forecasting steady rain through most of of the day on Friday.

- ABC
---
Who is online
Users browsing this forum: No registered users and 2 guests