Hey Guys,

As of late I've taken an increased interest in the weather and I would love to read up more on how you guys read models and predict what's going to happen. I know to start with I need to know the basics, so I was wondering if you guys had any good links to any preferably Australian sites that go through the basics of whats happening up to how to read a Synoptic chart properly?

I've had a gander through the BOM website but I was looking for something more on how things weather systems interact and form what they do.

Cheers,

Dyl
---
Not sure if you've seen this page, but I found it helpful if you want to study basic synoptic weather and stuff.
http://www.bom.gov.au/australia/charts/ ... ml#howwhat
I'll try and dig up some more specific stuff if you want.
---
Thanks,

I had seen that but some parts lost me (partly because of a tiny attention span) so i've jumped rigfht back to basics. I do have 1 question that might be face slappingly dumb / obvious.

When it comes to pressure systems, are there only High and Low pressure systems or is there "normal" pressure bands running inbetween them. I ask this because I have this notion in my head that when a low pressure system hits a high it will automatically form a cold front. althought i am 95% sure im wrong I was wondering if anyone could help clarify this to me =(
---
Posts: 1857
Joined: Mon Aug 10, 2009 5:56 pm
Location: Nollamara
Winds flow from areas of high pressure to areas of low pressure. There are no normal pressure bands.

A frontal system occurs when a cold and dense air mass meets a warm and less dense air mass. This causes the colder air to burrow itself underneath the warm air and consequently the warm air rises - creating a zone of low pressure and thus a front.
---
Ok thanks,
Im still a bit confused. if the warm air hitting cold air causes a front and low and high pressure systems feed into one another why is it that cold fronts do not form on the area where low and high pressure systems feed into one another?
or am I getting pressure systems and air masses all confused?
sorry
---
Ok, here's a weather map. Highs have winds that flow in an anti-clockwise direction. In winter generally highs will settle over central and southern Australia, pushing warm NE/NW winds across southern WA. Because highs tend to come in belts there's always a sharp transition zone between the two highs, where warm moist N'ly winds from the high in the bight meets cold drier air flowing up from the second high to the southwest. Because cold air is denser than warm air, it sinks, undercutting the warm air and forcing it to rise. The sharp boundary zone forms a cold front.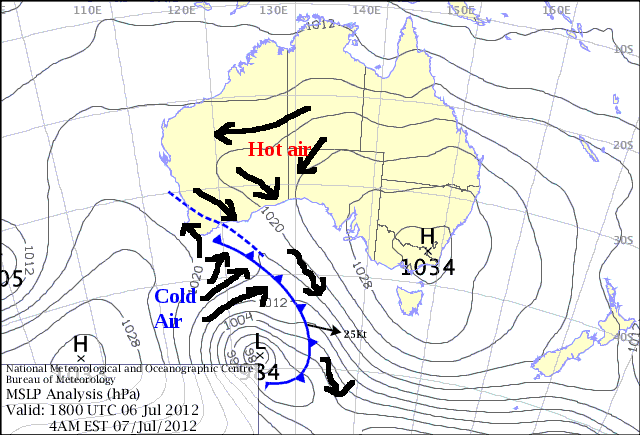 So yeah, if you're meaning that a cold front will form between two high pressure systems, essentially you're right. In summer the pattern is a bit different but we can discuss that later.
---
cool, so even though the weather is moving west to east the high over the east coast is still feeding into the low to its west?
sorry for the questions
---
Yep. Here's a example too, I got it from the BoM's website.
Here's the full link, there's actually a lot of helpful stuff there, it's just knowing where to look.
http://www.bom.gov.au/lam/Students_Teac ... sure.shtml
---
Cool thanks.
Ive just looked at the current chart and Ill try explain what i think is happening and can i get some feedback on how wrong i am? p.s check out my photshop skills
The cold air from the high off the WA coast collides with the warm Moist air from the Low south of the WA/SA border to cause a cold front. Perth would get fine weather due to the high approaching with southerly winds while Adelaide would get a cold front within the next 24 hours with Melbourne being cold and rainy.
It might just be my interpretation of the pressure systems but why if there a cold front south of tasmania if the warm air hasn't met up with the cooler air near new zealand, Or are there other factors / conditions in play?
I took a stab but I think i'm well off the mark
---
I'm probably going to confuse you more but here's my interpretation of the the map. A cold front and low has formed in the boundary zone between a cold air mass dragged up from southerly winds colliding with slightly warmer W/SW winds over land to it's north. A low and trough over central Australia has formed due to cold dry air being pushed up across the continent with warm moist air being pushed down over eastern Australia. The high well to the east of NZ is producing causing warm air on it's western side to flow down across NZ with colder air being pushed up from that high (the one marked 1018hPa). This has formed a cold front heading towards NZ. See that area I've marked off eastern Australia? Where the winds shift from SE to NE? That's called a ridge of high pressure, it's basically the boundary zone where cold air advection and warm air advection are separated. The blue dotted lines are troughs. They are also essentially cold fronts except that cold fronts tend to have a characteristic "curving" shape to them whereas troughs can have any "shape", they are simply elongated areas of low pressure. Hope I've made things a bit more clearer.
---
ahh ok thanks, So I was a bit off the money with that one.

a few questions thought if thats ok.

1) Is the warmish air off the west coast the air from the continental air mass that has been moved by the anti clockwise movements from the High pressure system?
2) The cold air up the middle has been dragged up from the martime air around the southern ocean and If so, why doesn't the cold air from the southern ocean hitting the warm continental air cause a cold front?
3) The Warm air over QLD/NSW/VIC is from the Coral Sea Forming that Trough?
4) How it there a small pocket of warm and warmish air smack bang in the middle of that cool air at the front, I was assuming if the warm air was still around there would be more warm air behind it rather than a pocket.
---
ok,
1) Yeah kind of, but mostly due to the fact that air is in the tropics where the surface temperatures are always warmer than down here. But the high would drag the air in an anti-clockwise direction, that's how we get hot days in summer. Warm air is dragged down from the tropics in NE winds.
2) Not sure which part of the map you're referring to, if its the area around South Australia then the answer is: because the air across land is also cold and it's feeding into that low south east of Adelaide. There's no great temperature difference so no cold front has formed. The low pressure system and cold front in the bight has formed because there's W/SW winds ahead of the front and cold S'lies behind it. Notice I've marked that area along the south coast as warmish air. That's because the temperature difference between the air near the coast and behind the front is relatively small whereas on the eastern side of the low I've marked it as red, because on the eastern quadrant of a low pressure system there's always N'ly winds. So the temperature and wind difference is greater.
3) Yes. There's warm, moist air flowing off the Coral Sea, colliding with that cold air pushing up from the south. The trough is a result of that air colliding.
4) Again, not sure which system you're referring to, the decaying front in the southern ocean or the front in the bight? As I mentioned earlier the front in the bight has cool air ahead of it, but it's comparatively warmer to the air behind it, hence a cold front. The air directly ahead of the low is significantly warmer than the air behind it, so I marked it red. Now the system to the southwest of that high is slightly more complicated. The high is pushing N/NW winds to the west of it and there's W/SW winds flowing up ahead of that decaying frontal system to meet it. A weak trough forms. The front is decaying because the trough has obviously become a dominant feature to the west of the high and it needs a decent inflow to keep it going. The winds will shift more SW'ly to feed into the trough so there is now no wind difference and the front will die. Also another rapidly approaching cold front well to the south west would be causing warm air to flow where that cold front is. The air would mix and the temperature difference would reach equilibrium and that's why the front would die. I marked that air as orange because, although it is still relatively cold air, it is still warmer than the air behind of it.
When reading weather maps it helps to pull up a chart of the temperatures of the difference levels of the atmosphere, it really helps you to analyze weather conditions a hell of a lot better. Also looking at moisture loops and the false colour temperatures of the cloud helps.
False colour temperatures:
http://www.bom.gov.au/australia/satelli ... fresh+View
Surface temperatures:
http://www.bom.gov.au/australia/charts/ ... fresh+View
You can find temperatures for the different levels of the atmosphere here also.
Water vapour/moisture loops:
http://realtime2.bsch.au.com/wv_sat.htm ... &stop=#nav
Cheers.
---
Return to Your Weather Questions
Who is online
Users browsing this forum: No registered users and 10 guests